If astronauts are to set up a base and spend extended periods of time on Mars, they're going to need to be able to synthesize water and grow their own food.
Growing conditions are quite different on the Red Planet, so scientists on Earth have been conducting experiments to better understand how plants will behave in Martian regolith.
New research, published Wednesday in the journal PLOS One, suggests nitrogen-fixing bacteria can help crops grow more efficiently in Martian soil.
The soil on Mars is lacking several nitrogen-containing molecules that are essential for plant growth.
But when scientists introduced nitrogen-fixing bacteria to clover plants and sowed them in manmade Mars-like soil, the plants outgrew plants without the symbiotic bacteria.
Researchers found the inoculated plants boasted 75% greater roots and shoots growth than the control plants. When scientists tested the soil, they determined there were equally depressed concentrations of NH4, which suggests the microbes helped the clover plants more efficient absorb the scarce nutrient.
A lack of nitrogen isn't the only problem with Mars' dense soil. The Martian regolith is also toxic, containing high concentrations of perchlorate compounds containing chlorine.
The authors of the new study suggest different combinations of symbiotic bacteria could help plants avoid the uptake of harmful molecules.
"This study shows that nodule forming bacteria Sinorhizobium meliloti has been shown to nodulate in Martian regolith, significantly enhancing growth of clover, Melilotus officinalis, in a greenhouse assay," researchers wrote.
"This work increases our understanding of how plant and microbe interactions will help aid efforts to terraform regolith on Mars," they wrote.
Related Links

Mars News and Information at MarsDaily.com
Lunar Dreams and more


Thanks for being here;


We need your help. The SpaceDaily news network continues to grow but revenues have never been harder to maintain.

With the rise of Ad Blockers, and Facebook – our traditional revenue sources via quality network advertising continues to decline. And unlike so many other news sites, we don't have a paywall – with those annoying usernames and passwords.

Our news coverage takes time and effort to publish 365 days a year.

If you find our news sites informative and useful then please consider becoming a regular supporter or for now make a one off contribution.


SpaceDaily Contributor

$5 Billed Once

credit card or paypal




SpaceDaily Monthly Supporter
$5 Billed Monthly

paypal only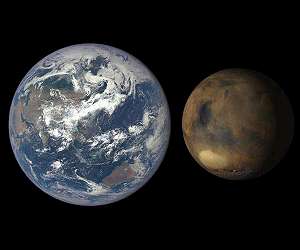 Mars habitability limited by its small size, isotope study suggests

St Louis MO (SPX) Sep 21, 2021


Water is essential for life on Earth and other planets, and scientists have found ample evidence of water in Mars' early history. But Mars has no liquid water on its surface today. New research from Washington University in St. Louis suggests a fundamental reason: Mars may be just too small to hold onto large amounts of water.
Remote sensing studies and analyses of Martian meteorites dating back to the 1980s posit that Mars was once water-rich, compared with Earth. NASA's Viking orbiter spacecraft … read more