A significant amount – at least 25 percent – of Martian valley networks formed as a result of lake breach flooding, as reported in a paper on which Planetary Science Institute Research Scientist Alexander Morgan is an author.
This helps us better understand the past climate history of Mars, said Morgan, a co-author on "The importance of lake breach floods for valley incision on early Mars" that appears in Nature. Timothy A. Goudge of the University of Texas at Austin Jackson School of Geosciences is lead author.
Mars' surface hosted large lakes about 3.5 billion years ago. Some of these lakes overtopped their rims, resulting in massive floods that rapidly formed deep canyons. Similar lake breach floods occurred in the northwest United States and central Asia at the end of the last glacial period over 15,000 years ago.
"We found that at least a quarter of the total eroded volume of Martian valley networks were carved by lake breach floods. This high number is particularly striking considering that valleys formed by lake breach floods make up just 3% of Mars' total valley length," Morgan said.
"This discrepancy is accounted for by the fact that outlet canyons are significantly deeper than other valleys. These floods would have shaped the overall Martian topography, affecting the flow paths of other valleys. Our results don't negate the importance of precipitation-fed runoff on early Mars. On the contrary, liquid water had to be stable for long enough for lakes to fill from inlet rivers."
The research team used global maps of Martian valleys and lakes to identify which lakes were formed from breach floods. They then used an algorithm to calculate the eroded volume of valleys on Mars and compared the volume of lake overflow canyons with other valley networks.
"It's been known for a while that a few select Martian valleys were formed from lake overflow flooding, but our study is the first global analysis," Morgan said.
"Previous work has argued that differences between valley networks on Mars and river valleys on Earth are evidence that Martian features formed by processes other than surface water, such as groundwater or glacial erosion. Our results show that many Martian valleys are in fact more analogous to catastrophic floods on Earth, such as those that shaped the northwest United States at the end of the last glacial period."
"If we think about how sediment was being moved across the landscape on Mars, lake breach floods were a really important process globally," said Goudge, lead author of the paper. "And this is a bit of a surprising result because they've been thought of as one-off anomalies for so long."
The paper helps shed light on historic climate change on Mars. For several decades there has been an ongoing debate about whether the early Martian climate should be better characterized as 'warm and wet' or 'cold and icy.' "Almost everyone agrees, however, that the early Martian environment underwent big climatic changes," Morgan said.
"During dry eras, impact cratering and volcanism would disrupt previously developed rivers, essentially creating dams. When the climate warmed to a point where liquid water was stable on the surface, there would have been numerous floods as new flow paths had to be created across the cratered landscape," Morgan said. "It would actually have been a surprising finding if lake breach floods were not a significant driver of erosion on early Mars."
Work on the project was funded by the NASA Mars Data Analysis Program.
Research Report: "The importance of lake breach floods for valley incision on early Mars"

Related Links

Planetary Science Institute

Mars News and Information at MarsDaily.com
Lunar Dreams and more


Thanks for being here;


We need your help. The SpaceDaily news network continues to grow but revenues have never been harder to maintain.

With the rise of Ad Blockers, and Facebook – our traditional revenue sources via quality network advertising continues to decline. And unlike so many other news sites, we don't have a paywall – with those annoying usernames and passwords.

Our news coverage takes time and effort to publish 365 days a year.

If you find our news sites informative and useful then please consider becoming a regular supporter or for now make a one off contribution.


SpaceDaily Contributor

$5 Billed Once

credit card or paypal




SpaceDaily Monthly Supporter
$5 Billed Monthly

paypal only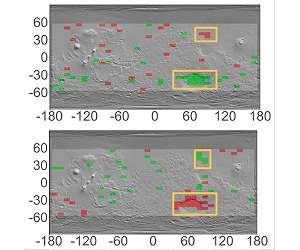 Scientists use seasons to find water for future Mars astronauts

Paris, France (SPX) Sep 28, 2021


An international team of researchers has used seasonal variations to identify likely sub-surface deposits of water ice in the temperate regions of Mars where it would be easiest for future human explorers to survive. The results are being presented this week by Dr German Martinez at the European Planetary Science Conference (EPSC) 2021.
Using data from NASA's Mars Odyssey, which has spent almost 20 years orbiting the Red Planet, Martinez and his colleagues have identified two areas of particular i … read more