China's Mars orbiter has resumed communications with Earth after the solar conjunction and will start remote sensing of Mars in early November, the China National Space Administration (CNSA) said Friday.
The orbiter was in normal condition during the solar conjunction, said the CNSA, citing telemetry data. It is the first time that the orbiter successfully survived the solar conjunction, the CNSA added.
A solar conjunction refers to a phenomenon when Mars and Earth move to either side of the sun and the three are almost perfectly aligned. During this period, the solar electromagnetic radiation will increase, and disrupt and even jam the communications between the Mars probes and Earth.
According to the CNSA, the orbiter will enter the remote-sensing orbit of Mars in early November to carry out global detection and obtain scientific data such as morphology and geological structure, surface material composition and soil type distribution, atmospheric ionosphere, and space environment of Mars.
The orbiter will also relay the communication between the rover and Earth for the rover's extended mission, the CNSA added.
China's Tianwen-1 mission, consisting of an orbiter, a lander and a rover, was launched on July 23, 2020. The rover Zhurong drove down from its landing platform to the Martian surface on May 22, 2021.
Source: Xinhua News Agency
Related Links

Lunar Exploration and Space Program

Mars News and Information at MarsDaily.com
Lunar Dreams and more


Thanks for being here;


We need your help. The SpaceDaily news network continues to grow but revenues have never been harder to maintain.

With the rise of Ad Blockers, and Facebook – our traditional revenue sources via quality network advertising continues to decline. And unlike so many other news sites, we don't have a paywall – with those annoying usernames and passwords.

Our news coverage takes time and effort to publish 365 days a year.

If you find our news sites informative and useful then please consider becoming a regular supporter or for now make a one off contribution.


SpaceDaily Contributor

$5 Billed Once

credit card or paypal




SpaceDaily Monthly Supporter
$5 Billed Monthly

paypal only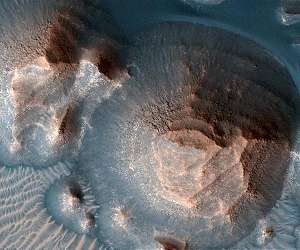 NASA confirms thousands of massive, ancient volcanic eruptions on Mars

Greenbelt MD (SPX) Sep 20, 2021


Scientists found evidence that a region of northern Mars called Arabia Terra experienced thousands of "super eruptions," the biggest volcanic eruptions known, over a 500-million-year period.
Some volcanoes can produce eruptions so powerful they release oceans of dust and toxic gases into the air, blocking out sunlight and changing a planet's climate for decades. By studying the topography and mineral composition of a portion of the Arabia Terra region in northern Mars, scientists recently found ev … read more