On the second sol of the weekend plan, Curiosity took an unexpected break, stopping arm motion on the way to deploying MAHLI to image the wheels for their regular check up. As such, her arm is jutted up in the air, a bit of which you can see in the above image, and it (and the rest of the rover) stayed there the rest of the weekend. The science and engineering teams very much care that Curiosity is waving her hand in the air, and quickly set about recovering the arm so we could complete wheel imaging and our drive to "The Prow."
Before take two of wheel imaging and the drive, we took the opportunity to gather more data from the interesting bedrock and structures on this area. ChemCam will shoot "Sucre," a horizon filled with resistant nodules, to see if the nodules belie a chemistry change.
ChemCam will then acquire RMI mosaics of two different parts of The Prow, "Ptari" and "Panari," to give us more insight into the structure we are heading toward. Mastcam will support ChemCam by imaging Sucre and another target from the weekend, a dark, flat resistant feature, that was targeted by ChemCam autonomously.
Mastcam will keep additionally busy with stereo mosaics of "Indio" and "Mutum," both areas with prominent layering that might help reveal the orientation of the bedrock, and a single image of "Maverick Rock," which earned its name from the complex mix of bedrock that appears present within.
Throughout the plan, we monitor the environment below and above us with DAN passive and active, regular REMS and RAD, a Mastcam image to keep tabs on the amount of dust in the atmosphere, and a Navcam images to look for dust devils and clouds.
We expect that when we return for planning tomorrow that we will have all these science goodies in the bag, as well as new wheel images and a new parking spot by The Prow. Stay tuned!
Related Links

Curiosity Mars Science Laboratory

Mars News and Information at MarsDaily.com
Lunar Dreams and more


Thanks for being here;


We need your help. The SpaceDaily news network continues to grow but revenues have never been harder to maintain.

With the rise of Ad Blockers, and Facebook – our traditional revenue sources via quality network advertising continues to decline. And unlike so many other news sites, we don't have a paywall – with those annoying usernames and passwords.

Our news coverage takes time and effort to publish 365 days a year.

If you find our news sites informative and useful then please consider becoming a regular supporter or for now make a one off contribution.


SpaceDaily Contributor

$5 Billed Once

credit card or paypal




SpaceDaily Monthly Supporter
$5 Billed Monthly

paypal only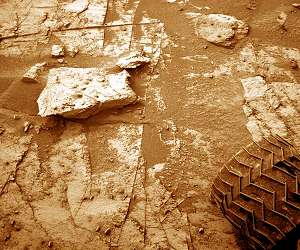 Sol 3350-3352: A Rock Under the Wheel

Pasadena CA (JPL) Jan 12, 2022


We are back into our planning routine after the Christmas break. In fact, this was the third plan in the new year, and the third plan that Curiosity executes within the Roraima quadrant my colleague introduced a few days ago. While we are getting used to new sounds of our names, we are marvelling at the landscape in front of us, which is very diverse, both in the rover workspace and in the walls around us.
It's a feast for our stratigraphers (those who research the succession in which rocks were d … read more