The difficulty of driving on Martian terrain proves itself once again! Our Sol 3504 drive did not complete successfully, leaving us in basically the same spot as our last plan. Thankfully, all the science we planned executed successfully: check out an interesting Dust Removal Tool result on "Omai" showing erosion-resistant veins beneath the surface and a MAHLI closeup of ChemCam's eye where the laser comes out! My role today was MAHLI and MARDI Payload Uplink Lead, which means I wrote and delivered the MAHLI/MARDI instrument commands and spoke for both instruments' activities after the plan was approved by the team.
While our resolute Rover Planners worked on planning a drive to get us further down the road, everyone else agreed to fill up today's plan with even more science and instrument calibration activities. For geology-based science, ChemCam's Sol 3503 laser target "Mahdia" was so interesting they decided to shoot the same area again but this time have Mastcam take a suite of images in 7 color filters to document the area in various light wavelengths.
ChemCam is also planning to shoot their laser on a thin plate of rock sticking out just above the Mahdia target area, named "Iwokrama" after a rain forest in central Guyana. While Mastcam is documenting ChemCam's efforts in color, it will also be taking a stereo 2×2 mosaic of nearby sand ripples, named "Poci" after the small town in Venezuela, which may help characterize Martian aeolian processes over time.
For contact science with the arm, the team decided on a single MAHLI imaging activity on a layered rock we named "Tipuru" after the village in Guyana. Due to the depth of Tipuru's layers, MAHLI will be taking images at 8 focus positions and stacking them into a single image with best focus.
For environmental science, ChemCam is planning to collect data passively while pointed at the sky for atmospheric composition characterization, Mastcam is planning images of the sun with its solar filter for atmospheric opacity measurements, and Navcam is planning an image of crater rim for atmospheric opacity and a movie of the terrain to hopefully capture Martian dust devils. The environmental team is also planning their normal REMS, RAD, and DAN activities for regular measurements of our spot in Gale Crater.
We're also taking today as an opportunity to get plenty of instrument calibration and documentation activities logged! Mastcam is planning two identical runs of images through the solar filter while not pointing at the sun, which will return black images showing the state of the Mastcam charge-coupled devices (CCDs) to see how they're holding up after nearly 10 years on Mars.
MAHLI is planning an image of the REMS ultraviolet sensor to show how much dust has accumulated and 4 images of the sky to use for processing MAHLI images after they arrive on Earth. SAM has an electrical-baseline test (EBT) and CheMin has an empty cell analysis activity planned for continued instrument calibration.
After the planned ~22 meter drive, ECAM and Mastcam are planning their normal images of our new location. Last (but not least, especially from my perspective today) we are planning a single MARDI image of the ground including part of the left-front wheel after sunset to get diffuse illumination of the dusty ground below, like this one from Sol 3495. As of this plan we've driven 28 and 1/8th kilometers since landing!
Related Links

Curiosity Mars Science Laboratory

Mars News and Information at MarsDaily.com
Lunar Dreams and more


Thanks for being here;


We need your help. The SpaceDaily news network continues to grow but revenues have never been harder to maintain.

With the rise of Ad Blockers, and Facebook – our traditional revenue sources via quality network advertising continues to decline. And unlike so many other news sites, we don't have a paywall – with those annoying usernames and passwords.

Our news coverage takes time and effort to publish 365 days a year.

If you find our news sites informative and useful then please consider becoming a regular supporter or for now make a one off contribution.


SpaceDaily Contributor

$5 Billed Once

credit card or paypal




SpaceDaily Monthly Supporter
$5 Billed Monthly

paypal only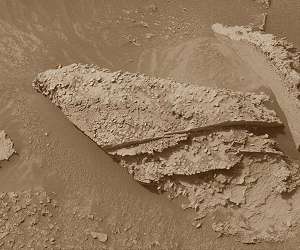 Sols 3503-3504: And We're Back

Boston MA (SPX) Jun 16, 2022


The Sol 3496 (last Monday) plan did not execute due to an issue onboard the rover that took a few days to investigate. Today, we were back to normal operations, and we were able to accomplish everything that was in the Sol 3496 plan as reported by my fellow blogger Cat O'Connell-Cooper, and more!
More was possible because we had slightly different communication windows between Curiosity and Earth in this plan than in the Sol 3496 plan. This meant we could wait to drive to our next location on the … read more