Curiosity is making its way through the stunning "Paraitepuy Pass," the little canyon that runs between the "Deepdale" and "Bolivar" buttes to our east and west, respectively. The canyon floor is filled with aeolian bedforms, or sand ripples, as wind is likely funneled through the pass, mobilizing sand grains – a lovely modern process, active on Mars today! Today's two-sol plan contains our normal cadence of remote science, contact science, and driving on the first sol, and untargeted remote science on the second sol.
Our contact science includes taking a MAHLI "dog's eye" mosaic of the bedrock target "Karisparo." In a dog's eye mosaic, the rover planners attempt to get the MAHLI camera as parallel to a vertical face of an exposure as possible. This provides a nice view of how any rock layers are oriented relative to each other, as well as getting a fine-scale view of the grain sizes.
The science team then uses these observations to interpret how the grains were deposited and may have been subsequently perturbed. The science team was able to bring in plenty of observations today as we expect to have plenty of power and daylight to work with.
We'll use the ChemCam instrument to take a LIBS observation of some local bedrock and a long-distance RMI of the Deepdale butte. The RMIs provide an excellent "spy glass" view of distant layering that otherwise can't be resolved with the other cameras. Mastcam will take mosaics of both the Bolivar and Deepdale buttes from this new vantage point.
The drive planned by the rover planners will navigate about 30 meters forward through Paraitepuy Pass. They are working through challenging terrain with higher than normal tilts and pointy blocks that have eroded off the surrounding buttes. A fun drive for Curiosity!
The second sol of today's plan will be in a new location after the drive. We will use ChemCam's autonomous target selection software to pick an interesting science target for a LIBS observation and document that spot with Mastcam. We also have our continued environmental monitoring observations including a dust devil and sky survey.
Related Links

Curiosity Mars Science Laboratory

Mars News and Information at MarsDaily.com
Lunar Dreams and more


Thanks for being here;


We need your help. The SpaceDaily news network continues to grow but revenues have never been harder to maintain.

With the rise of Ad Blockers, and Facebook – our traditional revenue sources via quality network advertising continues to decline. And unlike so many other news sites, we don't have a paywall – with those annoying usernames and passwords.

Our news coverage takes time and effort to publish 365 days a year.

If you find our news sites informative and useful then please consider becoming a regular supporter or for now make a one off contribution.


SpaceDaily Contributor

$5 Billed Once

credit card or paypal




SpaceDaily Monthly Supporter
$5 Billed Monthly

paypal only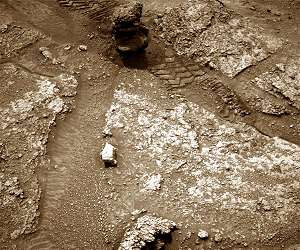 Small but Mighty on Sol 3545

Pasadena CA (JPL) Jul 28, 2022


Today's team planned a single-sol plan. Our greatest challenge was fitting in all the fantastic science observations and drive distance required during the ~3.5 hours of Mars time available before we need to communicate back to Earth for tomorrow's planning.
Often during single-sol plans we include contact science where we use our arm instruments to take a close look at the structure and composition of a particular surface target.
However, with our limited duration, the science team needed t … read more