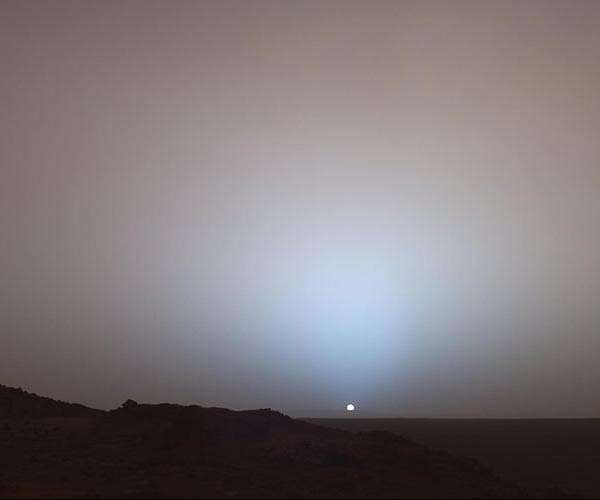 NASA's Mars Missions Persist Through Solar Conjunction

by Brad Bartz

Los Angeles CA (SPX) Nov 12, 2023

As Earth and Mars find themselves on opposite sides of the Sun – a biennial astronomical event known as the Mars solar conjunction – NASA's intrepid Mars fleet braces for a two-week communication hiatus, from November 11 to 25. This period, marked by the potential for solar interference, necessitates a pause in sending commands to the fleet, but it's far from a standstill for the Martian explorers.
During this celestial alignment, hot, ionized gas expelled from the Sun's corona poses a risk of corrupting radio signals sent from Earth. To mitigate this, NASA's Mars spacecraft, including the renowned Perseverance and Curiosity rovers, will temporarily cease roving. Yet, these robotic explorers are far from idle.
Perseverance and Curiosity will continue to monitor changes in surface conditions, weather, and radiation levels, serving as stationary but vigilant scientific outposts on the Martian surface. The historic Ingenuity Mars Helicopter, though grounded, will employ its color camera to study the movement of Martian sand – a subtle but crucial aspect of understanding Mars' environmental challenges.
Orbiting above, the Mars Reconnaissance Orbiter and the Odyssey orbiter maintain their watchful eyes on the planet, continuing their surface imaging work. MAVEN, dedicated to unraveling the mysteries of Mars' atmosphere, particularly its interactions with solar winds, will persist in collecting vital data.
While NASA usually receives regular health updates from the fleet, there will be a two-day window when the Red Planet will be fully obscured by the Sun, resulting in complete radio silence. This is a test of both the robust autonomy of the spacecraft and the meticulous planning of NASA's teams.
Roy Gladden, manager of the Mars Relay Network at NASA's Jet Propulsion Laboratory, highlights the preparation undertaken for this period, "Our mission teams have spent months preparing to-do lists for all our Mars spacecraft. We'll still be able to hear from them and check their states of health over the next few weeks."
After the communication moratorium concludes, the orbiters will relay backlogged science data to Earth, and the fleet will resume receiving Earth-based instructions, reestablishing the dynamic interplay of command and discovery that has become a hallmark of Mars exploration.
This conjunction period, while a temporary disruption in the steady stream of commands and data, underscores the resilience and adaptability of space missions. It's a testament to the ingenuity and foresight embedded in these interplanetary voyagers and the teams behind them. As NASA's Mars fleet lies low, its ongoing science operations remind us that even in silence, exploration and discovery continue unabated.
Related Links

Mars at NASA

Mars News and Information at MarsDaily.com
Lunar Dreams and more