NASA's InSight lander is stable and sending health data from Mars to Earth after going into safe mode Friday, Jan. 7, following a large, regional dust storm that reduced the sunlight reaching its solar panels. In safe mode, a spacecraft suspends all but its essential functions.
The mission's team reestablished contact with InSight Jan. 10, finding that its power was holding steady and, while low, was unlikely to be draining the lander's batteries. Drained batteries are believed to have caused the end of NASA's Opportunity rover during an epic series of dust storms that blanketed the Red Planet in 2018.
Even before this recent dust storm, dust had been accumulating on InSight's solar panels, reducing the lander's power supply. Using a scoop on the lander's robotic arm, InSight's team came up with an innovative way to reduce the dust on one panel, and gained several boosts of energy during 2021, but these activities become increasingly difficult as available energy decreases.
Dust storms can affect solar panels in two ways: Dust reduces sunlight filtering through the atmosphere, and it can also accumulate on the panels. Whether this storm will leave an additional layer of dust on the solar panels remains to be determined.
The current dust storm was first detected by the Mars Color Imager (MARCI) camera aboard NASA's Mars Reconnaissance Orbiter, which creates daily color maps of the entire planet. Those maps allow scientists to monitor dust storms and can serve as an early warning system for spacecraft on the Martian surface. InSight's team received data indicating the regional storm is waning.
The whirlwinds and gusts of dust storms have helped to clear solar panels over time, as with the Spirit and Opportunity Mars rover missions. While InSight's weather sensors have detected many passing whirlwinds, none have cleared any dust.
InSight's engineers are hopeful they will be able to command the lander to exit safe mode next week. This will allow more flexibility in operating the lander, as communication, which requires a relatively large amount of energy, is limited in safe mode to conserve battery charge.
InSight landed on Mars on Nov. 26, 2018, to study the inner structure of the planet, including its crust, mantle and core. The spacecraft achieved its science objectives before its prime mission ended a year ago. NASA then extended the mission for up to two years, to December 2022, based on the recommendation of an independent review panel composed of experts with backgrounds in science, operations and mission management.
Related Links

InSight

Mars News and Information at MarsDaily.com
Lunar Dreams and more


Thanks for being here;


We need your help. The SpaceDaily news network continues to grow but revenues have never been harder to maintain.

With the rise of Ad Blockers, and Facebook – our traditional revenue sources via quality network advertising continues to decline. And unlike so many other news sites, we don't have a paywall – with those annoying usernames and passwords.

Our news coverage takes time and effort to publish 365 days a year.

If you find our news sites informative and useful then please consider becoming a regular supporter or for now make a one off contribution.


SpaceDaily Contributor

$5 Billed Once

credit card or paypal




SpaceDaily Monthly Supporter
$5 Billed Monthly

paypal only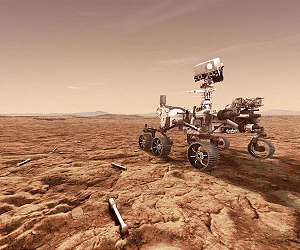 NASA begins testing robotics to bring first samples back from Mars

Pasadena CA (JPL) Dec 15, 2021


Testing has already begun on what would be the most sophisticated endeavor ever attempted at the Red Planet: bringing rock and sediment samples from Mars to Earth for closer study. The multi-mission Mars Sample Return campaign began when NASA's Perseverance rover landed on Mars this past February to collect Martian rock samples in search of ancient microscopic life.
Out of Perseverance's 43 sample tubes, four have been filled with rock cores and one with Martian atmosphere. Mars Sample Return seek … read more