On Wednesday we collected our first MAHLI images of the outcrops we've been studying the last few sols, and then drove back to the Prow to give us another chance to investigate the fascinating sedimentary structures we see preserved in this region. This morning we were pleased to find the rover was parked within a short bump distance to the Prow outcrop, exactly where we'd hoped to start the day.
In today's plan, we'll collect lots of remote sensing data of the Prow from our standoff location. We're taking two ChemCam RMI mosaics of the area on targets named "Kangurama" and "Kaietur," as well as ChemCam LIBS observations of the upper portion of the Prow on a target named "Alegre" and a nearby rock named "Formoso."
Additionally, APXS and MAHLI will examine a layered rock at the rover's feet named "Mazaruni," and Mastcam will collect several mosaics of the area.
Today in planning, I served as the Surface Properties Scientist, so I put my geologist hat on and worked closely with the Rover Planners as they designed a precision bump to place Curiosity within arm's reach of our favorite spot on the Prow.
There are lots of little rocks and some sand in the area, so it was a fun challenge to pick a parking location that will allow us to place MAHLI very close to the face of the Prow while also avoiding parking the rover on unstable rocks. Never a dull day on Mars!
Full Caption

NASA's Mars rover Curiosity acquired this image using its Mars Hand Lens Imager (MAHLI), located on the turret at the end of the rover's robotic arm, on January 20, 2022, Sol 3362 of the Mars Science Laboratory Mission, at 14:54:11 UTC.
When this image was obtained, the focus motor count position was 13011. This number indicates the internal position of the MAHLI lens at the time the image was acquired. This count also tells whether the dust cover was open or closed. Values between 0 and 6000 mean the dust cover was closed; values between 12500 and 16000 occur when the cover is open. For close-up images, the motor count can in some cases be used to estimate the distance between the MAHLI lens and target.
For example, in-focus images obtained with the dust cover open for which the lens was 2.5 cm from the target have a motor count near 15270. If the lens is 5 cm from the target, the motor count is near 14360; if 7 cm, 13980; 10 cm, 13635; 15 cm, 13325; 20 cm, 13155; 25 cm, 13050; 30 cm, 12970. These correspond to image scales, in micrometers per pixel, of about 16, 25, 32, 42, 60, 77, 95, and 113.
Most images acquired by MAHLI in daylight use the sun as an illumination source. However, in some cases, MAHLI's two groups of white light LEDs and one group of longwave ultraviolet (UV) LEDs might be used to illuminate targets. When Curiosity acquired this image, the group 1 white light LEDs were off, the group 2 white light LEDs were off, and the ultraviolet (UV) LEDS were off.
Related Links

Curiosity Mars Science Laboratory

Mars News and Information at MarsDaily.com
Lunar Dreams and more


Thanks for being here;


We need your help. The SpaceDaily news network continues to grow but revenues have never been harder to maintain.

With the rise of Ad Blockers, and Facebook – our traditional revenue sources via quality network advertising continues to decline. And unlike so many other news sites, we don't have a paywall – with those annoying usernames and passwords.

Our news coverage takes time and effort to publish 365 days a year.

If you find our news sites informative and useful then please consider becoming a regular supporter or for now make a one off contribution.


SpaceDaily Contributor

$5 Billed Once

credit card or paypal




SpaceDaily Monthly Supporter
$5 Billed Monthly

paypal only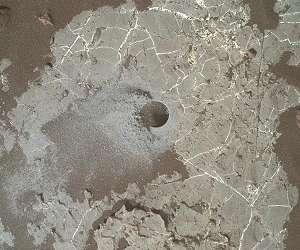 Newly discovered carbon may yield clues to ancient Mars

University Park PA (SPX) Jan 18, 2022


NASA's Curiosity rover landed on Mars on Aug. 6, 2012, and since then has roamed Gale Crater taking samples and sending the results back home for researchers to interpret. Analysis of carbon isotopes in sediment samples taken from half a dozen exposed locations, including an exposed cliff, leave researchers with three plausible explanations for the carbon's origin – cosmic dust, ultraviolet degradation of carbon dioxide, or ultraviolet degradation of biologically produced methane.
The researchers … read more