NASA's InSight Mars lander has detected the largest quake ever observed on another planet: an estimated magnitude 5 temblor that occurred on May 4, 2022, the 1,222nd Martian day, or sol, of the mission. This adds to the catalog of more than 1,313 quakes InSight has detected since landing on Mars in November 2018. The largest previously recorded quake was an estimated magnitude 4.2 detected Aug. 25, 2021.
InSight was sent to Mars with a highly sensitive seismometer, provided by France's Centre National d'Etudes Spatiales (CNES), to study the deep interior of the planet. As seismic waves pass through or reflect off material in Mars' crust, mantle, and core, they change in ways that seismologists can study to determine the depth and composition of these layers. What scientists learn about the structure of Mars can help them better understand the formation of all rocky worlds, including Earth and its Moon.
A magnitude 5 quake is a medium-size quake compared to those felt on Earth, but it's close to the upper limit of what scientists hoped to see on Mars during InSight's mission. The science team will need to study this new quake further before being able to provide details such as its location, the nature of its source, and what it might tell us about the interior of Mars.
"Since we set our seismometer down in December 2018, we've been waiting for 'the big one,'" said Bruce Banerdt, InSight's principal investigator at NASA's Jet Propulsion Laboratory in Southern California, which leads the mission. "This quake is sure to provide a view into the planet like no other. Scientists will be analyzing this data to learn new things about Mars for years to come."
The large quake comes as InSight is facing new challenges with its solar panels, which power the mission. As InSight's location on Mars enters winter, there's more dust in the air, reducing available sunlight. On May 7, 2022, the lander's available energy fell just below the limit that triggers safe mode, where the spacecraft suspends all but the most essential functions. This reaction is designed to protect the lander and may occur again as available power slowly decreases.
After the lander completed its prime mission at the end of 2020, meeting its original science goals, NASA extended the mission through December 2022.
Related Links

InSight

Mars News and Information at MarsDaily.com
Lunar Dreams and more


Thanks for being here;


We need your help. The SpaceDaily news network continues to grow but revenues have never been harder to maintain.

With the rise of Ad Blockers, and Facebook – our traditional revenue sources via quality network advertising continues to decline. And unlike so many other news sites, we don't have a paywall – with those annoying usernames and passwords.

Our news coverage takes time and effort to publish 365 days a year.

If you find our news sites informative and useful then please consider becoming a regular supporter or for now make a one off contribution.


SpaceDaily Contributor

$5 Billed Once

credit card or paypal




SpaceDaily Monthly Supporter
$5 Billed Monthly

paypal only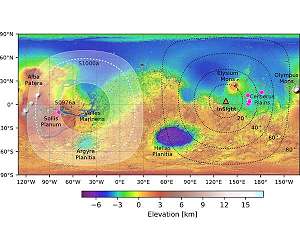 Two largest Marsquakes to date recorded from planet's far side

Albany CA (SPX) Apr 26, 2022


The seismometer placed on Mars by NASA's InSight lander has recorded its two largest seismic events to date: a magnitude 4.2 and a magnitude 4.1 marsquake. The pair are the first recorded events to occur on the planet's far side from the lander and are five times stronger than the previous largest event recorded.
Seismic wave data from the events could help researchers learn more about the interior layers of Mars, particularly its core-mantle boundary, researchers from InSight's Marsquake Service … read more