On February 22, 2022, NASA's MAVEN spacecraft went into safe mode when the spacecraft's Inertial Measurement Units (IMUs) began exhibiting anomalous behavior. The spacecraft is currently out of safe mode, stable and in Earth-nadir mode, pointing its high gain antenna toward Earth to facilitate high-rate communications. In this configuration, however, MAVEN cannot perform communications relays for other spacecraft on Mars and is performing only limited science observations. The mission team began science instrument recovery on April 20.
Safe mode began when the IMUs, navigation instruments that sense the spacecraft's rotation and control the pointing of the orbiter's antenna and science instruments, exhibited anomalies when turning on after a power cycle. MAVEN stayed in safe mode until April 19 when the mission team switched the spacecraft to rely on stellar navigation instead of the IMUs, which is known as "all stellar" mode.
All MAVEN's science instruments are currently online, but not all of them have been able to take data while the high gain antenna is restricted to pointing toward Earth.
The team is currently working to finish checkouts of "all stellar" mode to enable the spacecraft to operate in other orientations prior to resuming nominal science and relay operations by the end of the month.
Related Links

MAVEN

Mars News and Information at MarsDaily.com
Lunar Dreams and more


Thanks for being here;


We need your help. The SpaceDaily news network continues to grow but revenues have never been harder to maintain.

With the rise of Ad Blockers, and Facebook – our traditional revenue sources via quality network advertising continues to decline. And unlike so many other news sites, we don't have a paywall – with those annoying usernames and passwords.

Our news coverage takes time and effort to publish 365 days a year.

If you find our news sites informative and useful then please consider becoming a regular supporter or for now make a one off contribution.


SpaceDaily Contributor

$5 Billed Once

credit card or paypal




SpaceDaily Monthly Supporter
$5 Billed Monthly

paypal only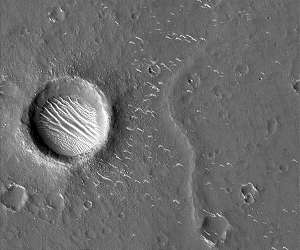 Study reveals new way to reconstruct past climate on Mars

Melbourne, Australia (SPX) May 16, 2022


A study led by a Monash University geologist has provided fresh evidence for when high rates of erosion occurred throughout the history of Mars.
The findings, published in Geology date when climate was far more erosive in Mars' past – with the implication that there were sustained periods of time when liquid water moved across the planet's surface.
Scientists have long been keen to understand how Mars went from a state potentially more like modern Earth, to the desolate inhospitable place it … read more