It has been almost 8 months to the day since Curiosity powered up its drill and extracted tailings from a Gale crater rock. Today, we prepared a single-sol plan for sol 3511. Our initial intent was to acquire APXS before the afternoon decisional pass, which would relay data from Mars to Earth in time for tomorrow's delayed start.
Unfortunately, as previously reported, temperatures this time of year in Gale crater are not overly conducive for quick, high-resolution APXS measurements, which prove particularly useful in assessing drill target suitability in short order.
In lieu of decisional APXS data, we will utilize recent evening measurements on APXS targets "Omai" (a brushed rock face) and "Opadai" (as-is rock face) to help us make a decision tomorrow if we want to drill here. We have not moved a significant distance and the rock composition in this area is very well constrained.
The sol 3511 plan kicked off with a DAN passive activity followed by images and ChemCam LIBS on the potential drill target, "Avanavero," located in the polygonal area above the arm and "CURIOSITY" in today's blog image. We then acquired MAHLI images of Avanavero before and after brushing the rock with the DRT.
Our final activity before the MRO decisional pass was a drill pre-load test, where we deploy the arm and place the drill bit in contact with the rock face, applying pressure (as well as our due diligence) to ensure the rock is safe to drill. These data will be needed for tomorrow's GO/NO-GO decision to drill.
As APXS PUDL (Payload Uplink/Downlink Lead) tosol, my shadow (trainee) and I were primarily responsible for assessing APXS data received over the long weekend (Opadai) and planning/executing tosol's APXS activities. Specifically, after the decisional pass in today's plan, Curiosity conducted APXS analyses on the main Avanavero DRT spot as well as on a location slightly offset.
Acquiring APXS data on the central DRT location as well as offset slightly provides us with additional means to mitigate dust signatures in APXS spectra. We then lifted APXS from its placement 5 mm above Avanavero and positioned the arm up and to the side but in a drill-ready state.
Curiosity completed a series of periodic tests throughout the night before waking up on sol 3512, which could mark an exciting return to drilling operations at Gale crater. We are certainly looking forward to the opportunity to drill in tomorrow's two-sol plan, something we have not done since sol 3289 (early November 2021).
Related Links

Curiosity Mars Science Laboratory

Mars News and Information at MarsDaily.com
Lunar Dreams and more


Thanks for being here;


We need your help. The SpaceDaily news network continues to grow but revenues have never been harder to maintain.

With the rise of Ad Blockers, and Facebook – our traditional revenue sources via quality network advertising continues to decline. And unlike so many other news sites, we don't have a paywall – with those annoying usernames and passwords.

Our news coverage takes time and effort to publish 365 days a year.

If you find our news sites informative and useful then please consider becoming a regular supporter or for now make a one off contribution.


SpaceDaily Contributor

$5 Billed Once

credit card or paypal




SpaceDaily Monthly Supporter
$5 Billed Monthly

paypal only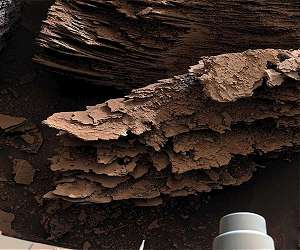 NASA's Curiosity Captures Stunning Views of a Changing Mars Landscape

Pasadena CA (JPL) Jun 23, 2022


Striking rock formations documented by the rover provide evidence of a drying climate in the Red Planet's ancient past.
For the past year, NASA's Curiosity Mars rover has been traveling through a transition zone from a clay-rich region to one filled with a salty mineral called sulfate. While the science team targeted the clay-rich region and the sulfate-laden one for evidence each can offer about Mars' watery past, the transition zone is proving to be scientifically fascinating as well. In fact, t … read more