Coming into planning, we were ready for a standard "Touch and Go" plan, where we do some early morning science and then drive onto our next location. However, our workspace had some really great bedrock within arm reach, so we decided to convert the plan into a "Stay and Play" type of plan instead and spend more time characterizing the rocks here.
On the first sol of the plan, APXS and MAHLI will analyze the large nodules in the bedrock at the target "Nova Cintra" and a raised ridge feature at "Pirara" on the block closest to the rover. ChemCam will shoot at the block behind this, using LIBS to analyse at "El Triunfo." MAHLI will image the same target after the LIBS measurement, as the active laser used by ChemCam has the handy side effect of clearing away dust and sand. On the second sol of the plan, ChemCam will use LIBS to look at a second nodular target "El Manteco" and Mastcam will image both El Manteco and El Triunfo.
ENV planned a Dust devil movie and a Mastcam tau observation, which measures dust in the atmosphere, in addition to REMS and DAN active and passive measurements.
As our Science Operations Coordinator Elena described a few weeks ago, we have been longing to get here to the "Marker Band Valley" (an area which has an orbital signature suggesting the presence of Mg-sulfates) for the past 10 years, and so we are investigating this area very thoroughly. Our recent long-range planning for this part of the campaign identified two areas of prime interest ("Area 1" and yes, you guessed it, "Area 2") which have intriguing textures and potentially tonal differences.
Right now, we are moving from Area 1 into Area 2 (dead ahead in the accompanying Front Haz image) so it is important to get as much information and context, looking in particular for any transitions or changes.
Mastcam and the ChemCam RMI (long distance imager) are both key instruments for this sort of campaign. The Mastcam mosaic "Progresso" looks at a stretch of vertical faces in the left of the Front Haz image. The larger mosaic "Lago Ano Bom" looks further ahead into Area 2, where we hope to end up later in the week.
The ChemCam RMI target "Uiramuta" also looks at bedrock further into Area 2. Mastcam will also look at a layer called the "Marker Band" in the Orinoco butte (you can just see the edge of the butte on the left-hand side of the Front Haz image) – the valley is named after this layer, which is identifiable through out this area.
We will not drive in this plan, so Wednesday will find us in the same place, but armed with more information about our path forward.
Sols 3596-3598: The Sweet Spots

by Keri Bean| Rover Planner Deputy Team Lead – JPL
As discussed in the previous blog, we've had some drive faults recently due to the tricky terrain we are on. After the drive on sol 3592 faulted, on sol 3594 I planned the drive as the mobility Rover Planner. I was so happy to log into my workstation this morning to see that the drive worked and put a really cool rock into the robotic arm's workspace that the scientists had been aiming for!
We start out sol 3596 with a remote sensing block full of ChemCam and Mastcam goodies. We start with ChemCam using its laser on "Marshall Falls" which will also be a later robotic arm target. ChemCam will also image Bolivar in the distance. After that, Mastcam will image Bolivar, Marshall Falls, Orinoco, "Pirai Pond" cobble, "Joao Gama" bedrock, and "Agua Blanca."
Next up is the first set of our robotic arm activities for the sol. Today I was the arm Rover Planner, although I had a trainee, Changrak, shadowing me and he was the one writing up the arm commands while I was double checking his work. It was his first shift for operating the robotic arm! He recently received the mobility Rover Planner certification so next up is working towards the robotic arm Rover Planner certification.
He got a trial by fire as the science team asked for a lot of robotic arm activities today, including two brushes with our Dust Removal Tool! Usually, we'll only do one brushing activity because of planning constraints like time or power available for rover activities, but the science team was incredibly excited about this rock and we have abundant time and power in this plan, so we were able to get in the two brushes, one on Marshall Falls and another one on "Corona Falls."
Corona Falls is a darker section of the rock and Marshall Falls is a lighter section of the rock, so the scientists want to investigate the differences between the two areas. We will also take extensive MAHLI imaging of both targets. This first group of arm activities ends by placing APXS onto Corona Falls for an evening integration. A bit later in the evening, we reposition the arm to place APXS onto Marshall Falls for another set of integrations. Later in the night we'll stow the arm so we'll be ready to drive on the next sol.
On sol 3597, we begin with some ChemCam and Mastcam observations. ChemCam starts by using the laser on Corona Falls, then images an inverted channel in the distance. Mastcam will then take multispectral imaging of Marshall Falls and Corona Falls. As you can see, we are using a lot of the rover's instruments to study Corona Falls and Marshall Falls! Taking observations with multiple instruments help the scientists reveal more information, since each instrument can provide a different data set that when combined can reveal more information about the rocks. Mastcam will also image the rover deck to keep an eye on how dusty the rover is. Navcam will also look for any Martian dust devils and monitor dust within Gale Crater.
Once all of that is done, we'll drive! We'll be driving about 12 meters to another interesting rock the scientists hope to analyze in the next plan. During this drive we'll also be taking a MARDI video to watch the terrain change below the rover.
Today's plan has what we call a small decisional pass, in that we will not get a lot of data down after the drive that will help guide the next arm or drive activities. The scientists and engineers work closely to prioritize the data to try and make sure the critical imaging will come down that will hopefully enable robotic arm activities and more driving in the next plan. Sometimes these passes can overperform and give us more data than we anticipated, so we're crossing our fingers for this to happen and give us a better chance of having all the information we need.
Later in the afternoon of sol 3597, we'll take a zenith movie to look for clouds in the sky. In the evening we'll take a picture with MARDI to see the terrain again below the rover in different lighting and shadows from the end of the drive movie.
Sol 3598 contains a lot of Martian atmospheric observations with a Mastcam atmospheric dust opacity measurement, a ChemCam autonomous laser activity and some imaging of the sky, and Navcam imaging of the sky and a dust devil search. The entire plan also contains a lot of background REMS, RAD, and DAN observations to characterize the Martian environment.
Related Links

Curiosity Mars Science Laboratory

Mars News and Information at MarsDaily.com
Lunar Dreams and more


Thanks for being here;


We need your help. The SpaceDaily news network continues to grow but revenues have never been harder to maintain.

With the rise of Ad Blockers, and Facebook – our traditional revenue sources via quality network advertising continues to decline. And unlike so many other news sites, we don't have a paywall – with those annoying usernames and passwords.

Our news coverage takes time and effort to publish 365 days a year.

If you find our news sites informative and useful then please consider becoming a regular supporter or for now make a one off contribution.


SpaceDaily Contributor

$5 Billed Once

credit card or paypal




SpaceDaily Monthly Supporter
$5 Billed Monthly

paypal only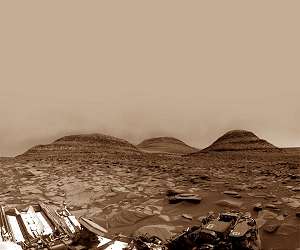 An Unexpected Stop, the Sequel: Sols 3594-3595

Pasadena CA (JPL) Sep 16, 2022


As Dr. Abigail Fraeman noted a couple weeks ago, Curiosity is navigating through terrain that is difficult to traverse. At the start of today's planning cycle, Curiosity's operations team received data that informed us that our previously planned drive came up short, only completing 36 cm of a planned ~7 m drive.
Curiosity remained surrounded by a mix of large rocks and sand, neither of which are overly amenable to swift Mars driving. In the case of the prior intended drive, Curiosity terminated m … read more