NASA's Ingenuity Mars Helicopter has acquired new images using its high-resolution color camera. The camera, which is mounted in the helicopter's fuselage, was pointed approximately 22 degrees below the horizon during the flight. The image shows the tracks of Perseverance running alongside a rocky outcrop.
On January 19, 2023 (Sol 681 of the Perseverance rover mission), Ingenuity completed its 40th flight, traveling a horizontal distance of 561 feet (171 meters) and remaining in flight for 85.21 seconds. The flight altitude was 33 feet (10 meters) and the heading was northwest. The flight speed was 7.2 mph (3.2 meters per second).
The goal of the flight was to reposition the helicopter, and the image was captured at the local mean solar time of 16:52:06. These ongoing operations by the Ingenuity team continue to demonstrate the capabilities of the small, experimental helicopter on the Martian surface. The image captured during this flight can be further analyzed by scientists to gain new insight into the Martian surface and atmosphere.
The Ingenuity team continues to showcase the helicopter's ability to capture high-resolution color images from a low-altitude flight. Ingenuity also paves the way for future missions that will use Ingenuity's capabilities to explore the Martian surface over extended distances and varying altitudes.
Ingenuity Mars Helicopter is currently located on the surface of Mars. It landed on the planet on February 18, 2021 as a sub-payload attached to the Perseverance rover. It was first deployed on April 3, 2021. Since then, it has been conducting test flights in a designated airfield, also known as the "helipad," which is located in an area called the "Wright Brothers Field" within Jezero Crater. The Perseverance Rover is in operation nearby and is used as a communication relay between the helicopter and NASA's Mission Control.
Related Links

Ingenuity Mars Helicopter

Mars News and Information at MarsDaily.com
Lunar Dreams and more


Thanks for being here;


We need your help. The SpaceDaily news network continues to grow but revenues have never been harder to maintain.

With the rise of Ad Blockers, and Facebook – our traditional revenue sources via quality network advertising continues to decline. And unlike so many other news sites, we don't have a paywall – with those annoying usernames and passwords.

Our news coverage takes time and effort to publish 365 days a year.

If you find our news sites informative and useful then please consider becoming a regular supporter or for now make a one off contribution.


SpaceDaily Contributor

$5 Billed Once

credit card or paypal




SpaceDaily Monthly Supporter
$5 Billed Monthly

paypal only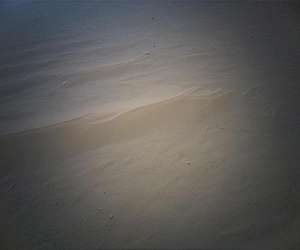 Ingenuity completes the A-Z tour of the Wright Brothers Field at Jezero Crater

Los Angeles CA (SPX) Jan 13, 2023

NASA's Ingenuity Mars Helicopter has acquired a new image using its high-resolution color camera. The camera, which is mounted in the helicopter's fuselage and pointed approximately 22 degrees below the horizon, was used during the 38th flight of Ingenuity on January 11, 2023 (Sol 667 of the Perseverance rover mission). During the flight, Ingenuity traveled a horizontal distance of 456 feet (139 meters) and reached an altitude of 33 feet (10 meters) while flying at a speed of 9 mph (4 m/s) … read more