Scientists working on the Perseverance Mars 2020 rover mission have uncovered new insights about dust devils on the Red Planet, thanks to the meteorological sensors on the Mars Environmental Dynamics Analyzer (MEDA) instrument. The mission, which landed in Jezero crater in February 2020, has observed a high abundance of dust devils, with small seasonal variability.
According to the research team, terrains with lower thermal inertia, which warm more efficiently at noon, favor the appearance of dust devils. They also found an increased dust devil activity during a short dust storm that covered the region.
The data collected by MEDA indicates that dust devils at Jezero have diameters ranging from 5.0 to 135 meters. The team estimates that around 2-3 dust devils are formed per square kilometer and Martian day. Large vortices with diameters of 100 meters form frequently enough to dominate dust lifting at Jezero.
In addition to these findings, the team also reported that two dust devils damaged part of the hardware of the wind sensors of MEDA. They detailed the characteristics of these events in their report.
Overall, the data collected by Perseverance has provided valuable insights into the dynamics of dust devils on Mars, which could have implications for future missions to the planet. These findings also highlight the importance of preparing for potential hazards such as dust storms and dust devils when designing equipment for use on the Martian surface.
The Mars Environmental Dynamics Analyzer (MEDA) instrument is a key component of Perseverance. It is designed to measure the temperature, humidity, wind, and dust properties of the Martian environment. The instrument is equipped with a variety of sensors, including a thermal sensor, a wind sensor, and a dust sensor. These sensors allow the MEDA instrument to provide detailed information about the Martian environment, including the dynamics of dust devils.
However, as the research team reported, two recent dust devils damaged part of the hardware of the wind sensors of MEDA. This highlights the challenges of operating equipment on the Martian surface, where dust devils can be a significant hazard.
Research Report:Convective vortices and dust devils detected and characterized by Mars 2020

Related Links

Perseverance Mars 2020

Mars News and Information at MarsDaily.com
Lunar Dreams and more


Thanks for being here;


We need your help. The SpaceDaily news network continues to grow but revenues have never been harder to maintain.

With the rise of Ad Blockers, and Facebook – our traditional revenue sources via quality network advertising continues to decline. And unlike so many other news sites, we don't have a paywall – with those annoying usernames and passwords.

Our news coverage takes time and effort to publish 365 days a year.

If you find our news sites informative and useful then please consider becoming a regular supporter or for now make a one off contribution.


SpaceDaily Contributor

$5 Billed Once

credit card or paypal




SpaceDaily Monthly Supporter
$5 Billed Monthly

paypal only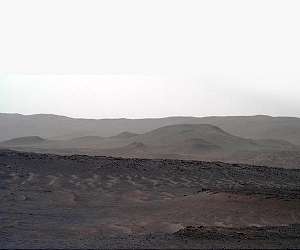 Mars' thin and turbulent atmosphere leads to curiously sized dunes

Stanford CA (SPX) Dec 15, 2022


Among the mountainous dunes and small, undulating ripples of Mars' desert-like surface are sand structures, intermediate in size, that are not quite like anything on Earth.
Stanford University scientists have now used an AI model to analyze a million Martian dunes and uncover how these sandy waves form on our sister planet at a scale – roughly 1 meter between crests – that previously seemed incompatible with the physics of how ripples and dunes arise on Earth.
The results, published Nov. 22 … read more